NEW BONUS ADDED: Get The "DREAD GAME 101" Premium Report FREE With Every Purchase Of The Barnum Manuscript!
Get this program FREE with every purchase of the Barnum Manuscript before the deadline on Wednesday, May 15th, 11:59PM EST
Dread Game

 Is A Potent Addition To The Arsenal Of Any Shogun Method Man Who Wants To Build Long-lasting And Iron-clad Long-term Relationships And Marriages.
Struggling with a woman who is falling out of love with you? Dread Game is the "Golden Hammer" you can yield to get your relationship or marriage back on track for you.
"Dread Game 101" is a premium Shogun Method program which is designed to work hand-in-glove with the Barnum Manuscript. As such, it's available only exclusively inside the Barnum Manuscript package. It's not for sale for any price, and you won't find it anywhere else.
What's Inside The "Dread Game 101" Premium Program
How to "brute-force" her devotion and allegiance to you - virtually guaranteeing her loyalty to you and cementing your relationship against breakups
Ways to instill a healthy level of "fear" of you which will serve to strengthen the bond between you and her
Strategies to make her appreciate you genuinely, "erasing" bad experiences and emotional baggage from the past
Tactics to put her hypergamy under control (if you don't know what "hypergamy" is - trust me, this is the SINGLE BIGGEST cause of all problematic relationships in the world)
How to fit Dread Game inside Shogun Method (in particular, the IRAE Model)
How to use Dread Game in three different scenarios: (1) When you make a mistake, (2) When you're not sure if she's "The One", and (3) When your girlfriend or wife is giving you problems.
And more!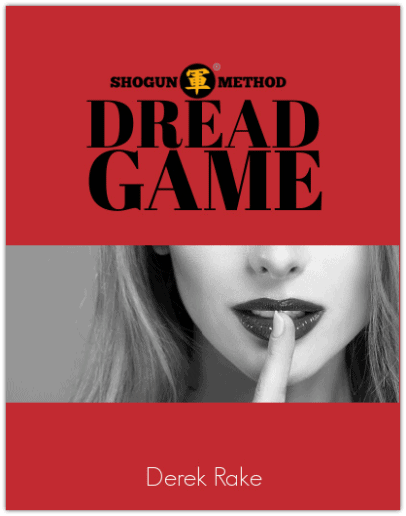 Get The 
DREAD GAME 101

 Premium Program For FREE With Your Purchase Of The Barnum Manuscript Today
Your free premium program will be automatically added to your download page after you have purchased the Barnum Manuscript