Discover A Revolutionary Method On
Seducing Older Women

Using Mind Control
Exploit A Cougar's Insecurities And Make Her Surrender To You: CougarSeduction™ Shows You How
Dear DerekRakeHQ client:
My name is Patrick Hayden, and I've got a confession to make.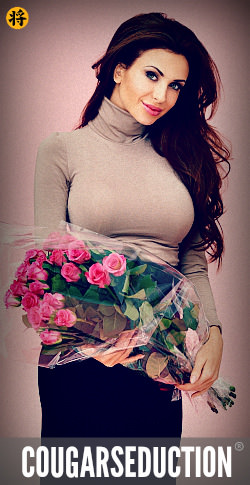 Over the past five years, I've slept with more women over 34 than women under 24.
This may be strange, especially since when I've first joined Derek Rake's group as a 20 year old virgin looking to get laid for the first time, I had wanted to score with a luscious 20 year old blonde.
And so the fate had it that I had "accidentally" used Derek's Dark Rake Method on my 38-year-old professor at University of California, Irvine.
Long story short, we ended up having hot, steamy sex at her study on one humid summer afternoon in 2010.
Now don't get me wrong...
I love women of all shapes, sizes and ages, but over time I had developed a taste for women at least 7-10 years older than me. 🙂
Cougars seem to have everything that I ever wanted in women: class, maturity, style, open-mindedness, and best of all, they always seem to be unashamedly sexual

During one of my coaching sessions with Derek Rake, I had asked him to teach me how to use SonicSeduction on cougars.
"So here's the deal, Patrick," Derek said. "SonicSeduction works on women of all ages. If you want something specific to use on older women, then you'll have to rely on your own creativity."
So over the years, with guidance from Derek, I developed my own style of seduction, and having field-tested my techniques on cougars as young as 32 (and as old as 55!) with tremendous success, I now have in my possession the world's first and foremost method on meeting and attracting older women - the CougarSeduction™ system.
Introducing CougarSeduction

™

: The World's
First

(And

Best

) System For Attracting Older Women And Putting Them Under Your Control
Derek, as you know, is a real stickler for quality, and he wouldn't put out a program unless he was 100% convinced that it would benefit his clients.
"Patrick," he had told me, "Prove to me that (CougarSeduction™) works."
So last year, we put CougarSeduction™ under rigorous testing by rolling it out to some 128 long-time clients of Derek Rake who told us that they were interested in older women. The results completely blew our mind...
Patrick, to be completely honest with you, I was just merely curious when I volunteered to be a CougarSeduction™ beta tester because older women just weren't my thing at that time. And guess what, I'm now a certified convert. In fact, I'm now seeing two women now: Amanda, 37 and Cherri, 38, and I've never been happier!

- Nate Barnes,

Los Angeles
Hit on the hot 30-something bartender and she practically begged me for my digits. Never thought that it would be this easy. I'm floored!

- Doug H.,

Boston
OK, Patrick, here's my story. I sneakily used CougarSeduction™ on the hot mama next door (she's 49 and I'm 34) and she had been flirting with me non-stop. Having a dilemma now because as you know, I'm married. This is dangerous stuff you're putting in the hands of guys out there, you know that.

- Kristoph,

Long Beach
I'd been fantasizing about my 30-something boss for ages. A week after I got hold of the beta version of CougarSeduction™ (and used it on her!), she told me that she had wanted to "review my performance" at her place after work. And when I got to her condo she locked the door and practically raped me!

- Justin Long,

Manhattan
Used CougarSeduction™ on a co-worker. Truthfully, I was never interested in her although she was the hottest chick (for her age!) at work, but since I was given a chance to test CougarSeduction™ I thought what the heck... I would just use the techniques to get her under my thumb. She had been messaging me non-stop to ask me to take her out. Makes me laugh just to think about it!

- Sean,

Sydney, Australia
The CougarSeduction

™

Bag Of Dirty Tricks Will Either Delight Or Disgust You
Know what you are getting yourself into before you buy

OK, before anything, here's something that I must let you know, so pay close attention.
Out of the 128 beta testers who had volunteered to test out CougarSeduction™, not everyone was happy with the program. In fact, there were three (3) participants who had PULLED OUT from the group on DAY ONE after going through the program one time.
When asked why, these were the answers -
"Seems to be very manipulative."
"I thought the Dark Rake Method was evil enough, but this was downright sinister."
"I've got three sisters. I can't do this without thinking that some guy may be doing the same to them, sorry."
Since you're already familiar with Derek Rake's programs, you understand that our stuff is not for every Tom, Dick and Harry.
Dating and relationships can be brutal and totally unforgiving, and because of this, we like to push the envelope so that our clients get the best tools and techniques in the world, bar none.
We can't please everybody, especially those who are too pussy to use these military-grade mind control hacks to dominate women. CougarSeduction™ is pretty hardcore, and I make no apologies for it.
CougarSeduction™ hits it where it hurts the most

Know this:-
In particular, there's one weakness among older women which we want to exploit. Cougars are very self-conscious when it comes to their age.
She might have just hit 33, and yet she thinks that she's already too old and un-sexy.
So why is this important to you? Simple, really. Cougars are starving to feel young again, and you want to exploit this insecurity and fear of aging to make them surrender to you.
If you are able to communicate to her that you find her sexy, attractive, and most importantly, young, she will do whatever you ask her to do. CougarSeduction™ will show you how to do exactly that.
Onboarding: the essential foundational principles of seducing cougars using the Derek Rake dating philosophy
Profiling: knowing her type:- Divorcee Cougar, Sugar Mama Cougar & Cheating Cougar. Guidance on how to adapt your techniques to her type
Her Motivation: knowing what she wants in a younger man, and how to fulfil her desires
How To Date A Cougar: some ground rules to obey
A Cub's Checklist: the three criteria that make a younger man stands out in the eye of a mature woman
The Cub's Motivation: why and how dating Cougars will bring your seduction game to the next level
Hunting Grounds: where to find Cougars, online and offline
The Cub's Prep: laying the groundwork for success
Goalsetting: structuring your gameplan, performing research and pre-date intelligence
Social Stigma: how to overcome the number one objection that you will get when dating an older woman
Differentiation: learn what distinguishes cougars from younger women, and how to press those unique hot buttons to make them desire you
Why role reversal is essential when seducing cougars: the Boytoy Principle
The five things that cougars look out for during their prowl
Cougar hunting: knowing what's inside her mind when she's out and about
Relationship management: how to maintain the crucial "balance" between the younger man (i.e. you) and the Cougar
The 5% Rule: the little you give that makes all the difference
Social Stigma Part 2: Managing more sticking points and setting you up for the long-term
Techniques to maintain a healthy (and sane) Cougar relationship
How to manage public scrutiny and heightened expectations
8 tips on dating older women: obey these principles and you'll enjoy unlimited success with Cougars
How to overcome the most common sticking points when it comes to Cougar dating
Techniques to "bulletproof" your relationship and set you up for long term success
Tips to address the mismatch in life preferences and expectations due to the gap in age
How to avoid the deadly "Mother Hen" trap
Dealing with different levels of success and the inevitable public scrutiny
Also Included: One-On-One Coaching & Premium VIP Support
Get the definitive answers to all your burning questions from CougarSeduction™ Master Coach Patrick Hayden
Since I am the go-to guy among Derek's coaches when it comes to seducing cougars, I've been charging guys $250 an hour (via DerekRakeHQ.com's private coaching practice) to answer questions and solve problems.
If you buy CougarSeduction™ today, I will offer you the same coaching service at no extra cost. This means that I'll answer every question that you have about seducing cougars for free for six months from the time of your purchase of the program.
There is, however, one catch...
As of now, I am coaching DerekRakeHQ's private practice clients full-time, which means that I have limited hours after work that I can use to answer questions from buyers of CougarSeduction™. This means that I can extend this offer to an extremely small number of guys.
Therefore, I have to limit this coaching offer strictly on a first-come, first-served basis. There's only 24 hours in a day, and once the slots are full, this offer I am making to you right now will expire.
To take up this time limited offer immediately, click on this Add To Cart button below. You will be able to review your purchase before you checkout on the next page.
ClickBank is the retailer of products on this site. CLICKBANK® is a registered trademark of Click Sales, Inc., a Delaware corporation located at 917 S. Lusk Street, Suite 200, Boise Idaho, 83706, USA and used by permission. ClickBank's role as retailer does not constitute an endorsement, approval or review of these products or any claim, statement or opinion used in promotion of these products.
Now With Even More Resources And Tools To Make Sure You Succeed
Your Very Own Client Happiness Manager, Available On Call, 7 Days A Week
Hello! My name is Kathy and I am the head of Client Support here at Derek Rake, LLC.
When you are enrolled as a Derek Rake client, you will be assigned your personal Client Happiness Manager who will be on standby in case you need help with your CougarSeduction™ purchase.
It's my goal to ensure that you get the best experience out of CougarSeduction™! Me and my team are always reachable at kathy@derekrake.net
At your service,
Lifetime Access To Derek Rake's Premium VIP Coaching Platform, the DerekRakeHQ™
CougarSeduction™ modules are accessed through our proprietary online training system, DerekRakeHQ™. At the end of each module, you will get the opportunity to post questions that will be answered by Derek Rake himself as well as other designated coaches and students.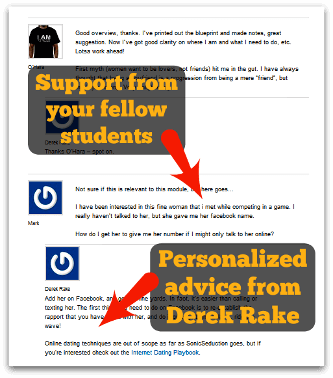 With a large number of our clients already successfully completed CougarSeduction™, you will have an entire army of peers and advisers rooting for your success, helping you every step of the way.

Get The Seduction Superpowers To Make Any Cougar Surrender Physically
AND

Emotionally To You: For

One

Payment Of Only $49.67

The complete set of five (5) modules in digital format (streaming videos, audio MP3s, PDF reports, Fast Action checklists)
Personalized coaching service where I will get all my questions answered by Patrick Hayden (valid for six months from the date of purchase)
Lifetime access to the DerekRakeHQ platform with client-only premium content, freebies and vouchers
60-day money back guarantee with absolutely no questions asked
A personal client manager assigned to my account (and on-call 7 days a week) to help me make full use of CougarSeduction™
ClickBank is the retailer of products on this site. CLICKBANK® is a registered trademark of Click Sales, Inc., a Delaware corporation located at 917 S. Lusk Street, Suite 200, Boise Idaho, 83706, USA and used by permission. ClickBank's role as retailer does not constitute an endorsement, approval or review of these products or any claim, statement or opinion used in promotion of these products.
IMPORTANT

Derek agreed to let me release CougarSeduction™ on one condition: he reserves the right to pull this product off the market any time he feels like it.
"Here's the kicker, Patrick," he had told me. "If this information becomes common knowledge, it will lose its effectiveness." I agreed with him.
Therefore, to protect the interest of our existing buyers, when we feel that our techniques become too widespread outside our group, we will stop selling CougarSeduction™ without any prior warning.
Once you've purchased the program, however, you will have access for life.
Frequently Asked Questions
Q: How Much Is CougarSeduction™?
$49.67.
This is a one-off payment, and there are no hidden, recurring charges. This means that you pay $49.67 once, and CougarSeduction™ is yours forever.
Q: Is There A Money Back Guarantee?
Yes, there is.
Our money back guarantee is valid for 60 days from the time of purchase. If you are unhappy with CougarSeduction™, simply contact us within 60 days and we will refund you in full.
Q: Is CougarSeduction™ Suitable For Me?
OK, we'll be completely blunt here: CougarSeduction™ is NOT for most people.
Why? The reason is pretty simple... a vast majority of guys are lazy, unmotivated and expect to be successful without having to lift a finger.
It's important to set your expectations right. CougarSeduction™ is NOT a magic bullet system. It won't turn you into a super suave, cougar-attracting player overnight.
On the other hand, if you're willing to diligently go through all 16 modules and importantly, PRACTICE what you have learned, then CougarSeduction™ will bestow to you unlimited power with older women forever.
Q: Is Patrick Hayden Really Going To Answer All My Questions Personally?
Yes.
Personal coaching is included as part of the CougarSeduction™ package.
It is important to us that you succeed, and my clients have repeatedly told me that the personal coaching feature is the most helpful component of our program. CougarSeduction™ is not your off-the-mill pickup artist ebook.
One minor catch though: because of time constraints and my hectic traveling schedule, I am unable to entertain questions via phone calls. Questions must be posted at DerekRakeHQ (or emailed) to get an answer. You may use a pseudonym if you wish.
Q: Will CougarSeduction™ Work On My Device?
CougarSeduction™ works on virtually all modern devices:-
Windows PC
Apple Macs
iPhone
iPad
Android devices
Blackberry
Opera
If you have a device which is not listed above, contact us by submitting a ticket here.
Q: What Happens After I Make The Payment?
After clicking on the "Add To Cart" button, you will be transferred to our secure checkout page. Here, enter your personal and credit card (or Paypal) details, and when your payment is successfully processed, you will receive your login instructions over email immediately.
The entire course is delivered online through our proprietary DerekRakeHQ platform, and nothing is ever sent to you via mail.
If you have not received your login details upon successful checkout, submit a ticket here. We reply within a few hours the most (often immediately).
Note that the link above is for Product Support only. For Order Support, contact ClickBank by clicking here.
Q: What Appears On My Credit Card Bill?
There is no mention of CougarSeduction™ or Patrick Hayden or Derek Rake or anything related to the company or product.
Clickbank currently handles all our credit card and Paypal payments. In your credit card bill, you will see a charge from CLKBANK*.
Q: What If I Have More Questions To Ask You?
Then get in touch with us! We'd love to hear from you. 🙂
For Product Support, contact us by clicking here.
For Order Support, contact ClickBank by clicking here.
Take Action Now Before We Close The Doors

ClickBank is the retailer of products on this site. CLICKBANK® is a registered trademark of Click Sales, Inc., a Delaware corporation located at 917 S. Lusk Street, Suite 200, Boise Idaho, 83706, USA and used by permission. ClickBank's role as retailer does not constitute an endorsement, approval or review of these products or any claim, statement or opinion used in promotion of these products.