Discover The Exact Blueprint My Private DerekRakeHQ Clients Use To Email Women And Get Them Out On Dates With An Astounding

85.8%

Success Rate
Online Dating Playbook™ Will Show You How To Seduce Women Online: Using Patented Shogun Method® Technology
If you already have attempted to attract women online, the you might have been frustrated by the whole experience. But it's really not your fault, and guess what, you're definitely not alone!
According to Jupiter Research, a whopping 96.9% of guys who join online dating sites would quit within the first 90 days – simply because they are not getting results that they want!
Of course, we have found the perfect remedy to this problem which we will be sharing with you in a short while... but first I want to share with you a dirty little secret about online dating sites that nobody really talks about. The fact is that the ratio of men to women at any one dating site could be as high as 12 to 1. So, women could afford to be choosy – while men had to fight for whatever scraps that they can find.
If you think that women get approached a lot at night spots and bars, then just imagine what happens when a hot chick puts her pictures up on an online dating site.
Any attractive woman who posts her profile online would INSTANTLY get messages… and then dozens more for the days to come. They could get as many as 100 emails A DAY from every type of guy you can imagine. Truth!
So what does a woman do when her email inbox gets bombarded like this on a daily basis? Typically, she would start DELETING emails quickly…
…and if your email doesn't have something that STANDS OUT then there's a high chance that it gets deleted with the rest.
Now would you be surprised that online dating is so tough?
How DerekRakeHQ Coaches Created The Ultimate Blueprint To
Online Dating Success
Eager to take up the challenge, I summoned my DerekRakeHQ coaches "translate" our collective Shogun Method® knowledge base into the realm of online dating...
... and most of the dating techniques that I teach are from rigorous in-field testing - I find out which techniques work (so that I can do more of those) and which don't (so that I stop using them).
So I started conducting tests to find out these three things:-
What kind of pictures and profiles that women respond to,
Emails or messages that women like best, and
The best methods to get women to give up their phone numbers...and finally get them to meet my coaching clients in person.
Between the members of my team and I, we have tested close to 12,500 emails, 750 pictures and 140 different profiles exposed to some 350+ women on these six sites:
Facebook
okCupid
eHarmony
Tinder
Plenty of Fish
Match.com
We kept track of everything... and recorded results and findings into stacks of notebooks and files. We constantly fine-tuned our emails, messages and profiles to further optimize and make them work better.
I then put everything together into a 7-Step Blueprint using the data that we have so painstakingly collected, and as a result, we came up with the largest compilation of online dating strategies ever assembled by anyone, anywhere.
Now Here's The Good News...
I am convinced that anyone can use this "optimized" Blueprint to be successful at meeting women online...
...and the good thing about this method is that there are no complicated lists or pickup artist-style "routines" to memorize.
What this means is that if you can send out an email, copy and paste - then you've got all the necessary skills required to apply everything inside the manual. With the Online Dating Playbook™,  meeting women online will become as easy as sending out emails or messages.
Here's exactly what you get when you have your hands on the Online Dating Playbook™:-
The online-specific rules you need to obey... so that by the time you actually meet a woman in person, it will feel like you've already been on several dates together
How to hold a huge advantage over male competition at online dating sites - and how you can exploit their WEAKNESSES to come out tops
Why you suck at online dating... and how you can overcome the challenges and improve your online game FAST
The Cyberspace Trap - how online dating can HARM your ability to seduce women (you must know this!)
Starting your online conquest - where to go, and what to do to give yourself an explosive headstart
The "Number One" online dating rule - know this rule and you will TRIPLE the chances of a woman replying to your emails
The ODP 7-Step Blueprint - follow this field-tested blueprint and you'll be able to get dates off any woman that you meet online - irrespective of how hot she looks or how popular she is
How to write an insanely attractive profile - something extraordinarily compelling which gets women to email you FIRST!
Contrary to what other "gurus" tell you, why you should NEVER put up pictures of you with beautiful women on your profile (you'll never find this information anywhere else)
The basic "grounding" principle you must know about developing your profile. Four secret techniques you need to use to turbocharge your profile and make yourself stand out from the crowd
How to use "Sensory Language" to appeal to a woman emotionally and build rapport instantly and easily - with specific examples of phrases and storylines to use
The five potential pitfalls you must avoid - most profiles make one or more of these mistakes, so if you know what these are then you'll be able to craft a uniquely attractive profile easily
The "Broad vs Specific" theory - why you should be as broad as possible when you describe who you want to meet
The "Shotgun" template - how to reuse an email which feels personalized to the woman that you send it to
The "no-brainer" way on getting a woman to reply to your message - use this to craft your message and you'll practically "force" her to email you back
Beyond the Introduction - what to do next after the first email in order to further intrigue her and boost her interest in you
Insanely powerful Instant Messenger tricks and tactics - how to create attraction using simple but deadly effective "IM seduction" techniques
How to have the right answers to all her questions - obey this single rule and you'll make her attracted to you quickly even before you meet her in person
How to pick pictures to post on your profile - practical tips on choosing the right pictures to make your profile shine above the rest
Why posting pictures with girls is a RED FLAG (you must know this)
How to get her out on a date - a simple trick that will get her to desperate to see you in person
What to say when you call her so that she gets excited to hear from you... and want to get together with you
The "Ex Trap" - how to handle questions about your previous relationships (use these "stock" answers and you'll pass her tests every single time)
How to build up sexual tension and make her desperate to meet you - using a simple trick when you talk to her on the phone
How to juggle several relationships online - with these techniques, you'll get dates lined up for you for months ahead!
The Troubleshooter - what to do when she suddenly stops reply to your emails - and the "Golden Rule" you must obey when dealing with flaky women
Advanced "Profile Pumper" techniques you must know - you won't find this anywhere else
A real life Case Study on how to troubleshoot a profile - a blow-by-blow example on going from zero to hero... use this toolkit to fix your profile right now
Upgrade

Your Shogun Method® Package By Adding Online Dating Playbook™ To Your Order
As a new Shogun Method® customer, you are entitled to purchase the latest Online Dating Playbook™ package for only $39.95. This payment is one-off, and you will be able to access the Online Dating Playbook™ forever on the DerekRakeHQ platform.
Your investment is protected by our standard no-questions-asked 60-day Money Back Guarantee.
What's Inside The Online Dating Playbook™
The complete Online Seduction Toolkit including profile templates, cut-and-paste emails and blow-by-blow case studies
7-Step Blueprint containing the full sequence from profile creation up to the first date
PLUS: Unlimited lifetime profile and email template updates
The Online Dating Playbook Addon Is Only $39.95, One-Time

Using Shogun Method® techniques online can be tricky, but the Online Dating Playbook™ shows the way. Surely, there's nothing simpler than cut and paste!
Josh, Shogun Method® Client

My strategy is to develop rapport face-to-face using Shogun Method®, and then follow up via email using Online Dating Playbook™. Works like a charm!
Mick, Shogun Method® Client

I'm quite bad with tech, and am really new to all this online stuff, but Online Dating Playbook™ shows the way. I'm beyond stoked with the new women I'm meeting!
Tony, Shogun Method® Client
Open Up A Whole New World Of Options For You
You don't have to be on dating sites like Match.com or eHarmony to find Online Dating Playbook™ useful. The same techniques also work wonderfully well on Facebook or just plain old email.
Free Exclusive Bonus: The
Online Personals Guide

(OPG)
An official companion guide to the Online Dating Playbook™, the Online Personals Guide (OPG) is a specialized module which has been developed especially for the use of Online Dating Playbook techniques on sites like Match.com and Tinder.
Get Insider Reviews Of Dating Sites. Read explosive insider reviews of all these sites: advantages, disadvantages, typical audience and site-specific watchouts that you must be aware of. Maximize your chances of success by zeroing into the sites that are most suited to you.
How To Write Insanely Attractive Personals Like A Pro. Get industrial-strength techniques used by movie directors, playwrights and fiction writers to create a memorable profile. Let us hand-guide you on developing an online character which appeals to women and sparking their interest in you.
Learn The Surefire "Initial Connection Builder" Techniques. You only get to make the first impression once! Use "Open Loops" and the RE: technique to pique a woman's curiosity and make her open your emails... and compel her to respond to you using online rapport building tactics.
Discover The Best Method To Get Things Into The "Real World". Discover an effective trick to get a woman to want to see you in person using the "System of Points". Ever got "stuck" with a woman refusing to get on a date? Then this is the quick and easy solution for you.
How To Make "The Call" And Get Her Hooked On You Instantly. You only get one chance to impress her when you first call her. Learn how to use the "Plank" technique to make her feel immediately comfortable and "familiar" with you even though you're talking to her for the first time.
How To Nail The First Date - Get Her Eager To Go Out With You Again. Discover "industrial strength" techniques on planning the first date, and how to keep her engaged using techniques such as "The Cube". Learn how to use the "Dual Location" tactic to create a "familiarity illusion" inside a woman's mind and make her feel that she has known you for months or even years. Explosive stuff!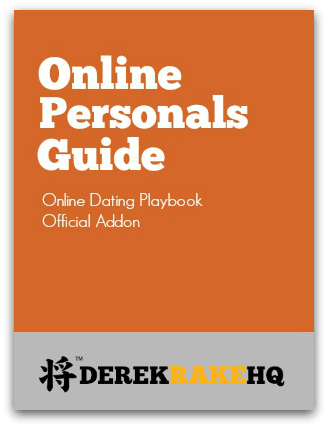 100% Money Back Guarantee
Your investment in the Online Dating Playbook™ is protected by our 100% no-questions-asked Money Back Guarantee. Try the product for a full 60 day period and if you don't like it, email us and we will issue you a courteous refund.
Add Online Dating Playbook™ To Your Shogun Method® Package Now
Exclusive Offer To New Shogun Method® Clients
Only $39.95 For New Clients
Free: Online Personals Guide
Unlimited Lifetime Updates
Stephen,

Shogun Method® Client

"A tour-de-force... this is possibly the only online seduction guide you'll ever need, period."
Here's What You Get Inside The Online Dating Playbook™:
Shogun Method® techniques customized for Facebook, email, chat and online dating sites
All you need to attract women the fast and easy way – including profile templates, emails, blow-by-blow case studies and more
The full sequence from start to end, from profile creation up to the first date
Unlimited updates, new email templates and program enhancements for a lifetime
Personal consulting where you can get all your questions answered by Derek Rake or his best coaches
The Online Personals Guide (OPG) free bonus worth $26.97
60-day no-questions-asked money back guarantee
The Online Dating Playbook Addon Is Only $39.95, One-Time
Frequently Asked Questions
Q.

Are There Any Recurring Charges?

A.No. The payment is one-time. You pay $39.95 once and the Online Dating Playbook is yours forever.

There are no hidden charges either.

Q.

Is There A Money Back Guarantee?

A.Yes, there is.

Our money back guarantee is valid for 60 days from the time of purchase. If you are unhappy with the product, simply contact us within 60 days and we will refund you in full.

Q.

Will The Online Dating Playbook Work On My Device?

A.The Online Dating Playbook is in PDF format. As long as your device supports PDF files you will be able to view the product. This means that virtually all modern computers and smart phones will work.

The PDF files are unprotected, which means that you can print them if you prefer.

Q.

What Appears On My Credit Card Bill?

A.There is no mention of Online Dating Playbook or Derek Rake or anything related to the company or product.

Clickbank currently handles all our credit card and Paypal payments. In your credit card statement, you will see a charge from *CLKBANK.

Q.

Do I Need To Join An Online Dating Site?

A.No, not at all. The techniques will work over Facebook, chat or plain old email. However, if you'd like to join an online dating site, we will show you the extra step on how to optimize your profile for best response.

Q.

Does Online Dating Playbook Require Shogun Method To Work?

A.Yes. The same concepts behind Shogun Method are used to develop the Online Dating Playbook. Therefore, having strong Shogun Method foundational knowledge is essential for the techniques inside the Online Dating Playbook to be used.
The Online Dating Playbook Addon Is Only $39.95, One-Time
ClickBank is the retailer of products on this site. CLICKBANK® is a registered trademark of Click Sales, Inc., a Delaware corporation located at 917 S. Lusk Street, Suite 200, Boise Idaho, 83706, USA and used by permission. ClickBank's role as retailer does not constitute an endorsement, approval or review of these products or any claim, statement or opinion used in promotion of these products.