NEW BONUS ADDED: Get the 
JEWEL CODING SEQUENCE

FREE

With Every Purchase Of Shogun Sequences Handbook Volume 2
IMPORTANT: Offer Expires On Wednesday (February 5th), 11:59pm Eastern Standard Time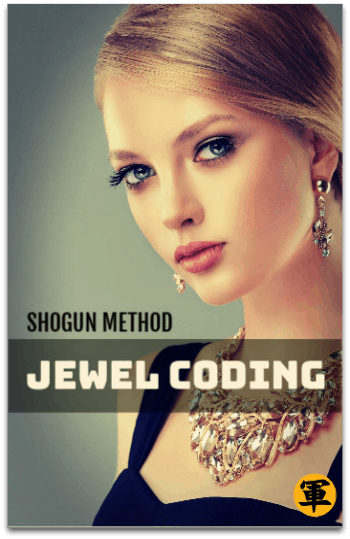 What's the "JEWEL CODING SEQUENCE"?
The Jewel Coding Sequence is an alternative to Shogun Method's Black Rose Sequence to be used in the Enslavement stage. In many cases, the Jewel Coding Sequence can be simpler to use (because relies more on storytelling than hypnosis), and can work better especially if her Attraction levels to you have dipped somewhat.
A worthy addition to your Shogun Method arsenal!
The complete nine steps blueprint to Enslave a woman with the Jewel Coding Sequence (essential!)
How to tweak the Black Rose to transform it into Jewel Coding (so that you don't have to start from scratch)
Exact word-for-word scripts to use - these have been tested comprehensively in the Derek Rake Insider Labs (use with 100% confidence)
A list of suggested "alter ego names" which you can use to create the Enslaved personality under your authority and command
...and more!
"Jewel Coding" will be added automatically to your Shogun Sequences Handbook Volume 2 package upon successful checkout. OFFER EXPIRES ON WEDNESDAY, FEBRUARY 5, 2020 (11:59pm EASTERN STANDARD TIME)