NEW BONUS ADDED: Get The Official "VOLUME 4 MOBILE PLUSPACK" Free With Every Purchase Of The Shogun Method Black Book Volume One!
Get this premium program FREE with every purchase of the Shogun Method Black Book Volume One before the launch event ends on Friday, March 22nd, 11:59PM EST
Take The Shogun Method Black Book With You In The Field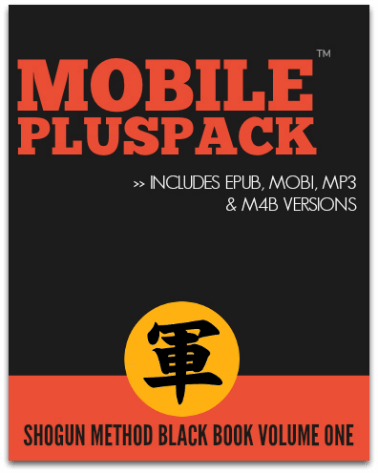 Access the Shogun Method Black Book wherever you are. Need a refresher of your Shogun Method Black Book tactics as you wait for her to turn up? Want a quick boost of confidence as you prep yourself up for a night out? Your Shogun Method Black Book knowledge is ready for you wherever you are... right inside your pocket!
Learn the techniques inside the Shogun Method Black Book on the go. Load the full-featured audiobook on your iPod while you work out at the gym or when you run. Read the complete Shogun Method Black Book on your iPad, iPhone, Android device or Kindle whenever you're on the go.
Bookmark and make notes. On your e-reader, highlight important points and annotate them with your own notes. Over time, your Mobile PlusPack™ will be even more valuable when enriched with your own jottings of personal experiences and insights.
Virtually all modern mobile devices are supported: Apple IOS (iPhone, iPad) and Google Android devices are compatible as well as Windows phones and tablets as well as Amazon Kindle, Barnes & Noble Nook and other e-readers and portable audio players (such as iPod).
REMEMBER: This Freebie Comes ON TOP Of The Bonus That You're Already Getting: Shogun Method 

"Trust Hacking"

Premium Program
"Trust Hacking" is a limited edition premium program inside Derek Rake's Shogun Method universe that's not available for purchase anywhere for any price.
And there's a good reason for this. Tactics inside the Black Book will work tremendously well if you have established TRUST with your target. "Trust Hacking" represents the easiest way to make a woman trust you quickly - no matter if she has just met you or known you for years. "Trust Hacking" tactics may be overkill for everyone else, but for Black Book practitioners this knowledge is absolutely essential.
REMEMBER: Attraction is NOT enough. Enslavement is the endgame - and TRUST is the key ingredient will make the Enslavement process a breeze for you.
What's Inside The "Trust Hacking" Premium Program
Why TRUST is the essential ingredient that is mandatory for strong, happy relationships that last a lifetime.
The ONE thing you need to do to make sure that your Black Rose Sequence (and other Enslavement tactics) work flawlessly on your woman
Trust Hack #1: "A-S" - Use this if she doesn't know you well enough to trust you completely. Perfect when you want to turn a woman into your girlfriend and secure her loyalty for you as long as you want.
Two examples of Trust Hack #1 with word-for-word scripts to use (1) during the Rapport stage in the IRAE Model, and (2) while priming her for the Black Rose Sequence
Trust Hack #2: "A-C" - If you sense hesitation in her, then deploy this Trust Hack to "forget" her hesitation and make her follow your suggestion (powerful!)
Trust Hack #3: "T-W-I-S-I" - This is the ultimate barrier breaker which you can use on any woman who seems to resist your Shogun Sequences. Use it to complement your Fractionation and other Shogun routines for maximum effect
Trust Hack #4: "+ve R" - This Trust Hack exploits a little-known psychological flaw which makes it impossible for a woman to "parse" negative suggestions. Make your hypnotic suggestions 10X more powerful with this simple Trust Hack!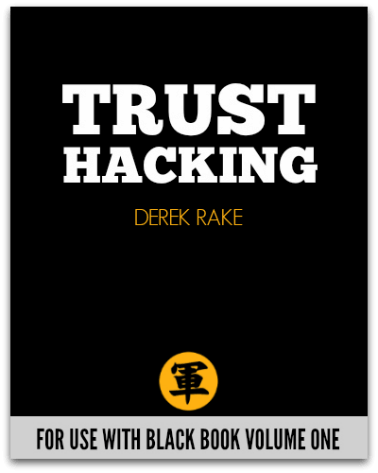 Get Both The 
MOBILE PLUSPACK + "TRUST HACKING"

 Premium Programs For FREE With Your Purchase Of Shogun Method Black Book Volume One Today
Your free bonuses will be automatically added to your download page after you have purchased the Shogun Method Black Book Volume One program
Mobile PlusPack (ePub, Mobi, mp3, m4b)
"Trust Hacking" Premium Program
Unlimited Lifetime Updates
OFFER EXPIRES MARCH 22, 11:59pm EST
Here's What You Get Inside The FREE Shogun Method Black Book Volume One Mobile PlusPack™:
The entire Shogun Method Black Book Vol 1 program in ePub and MOBI formats, ready for your portable devices such as iPhones and Android phones as well as iPads and other tablets
The entire Shogun Method Black Book Vol 1 program in audiobook (M4B) and MP3 formats, ready for iPods and other compatible portable audio devices
Chaptering, highlighting, annotating and bookmarking capabilities completely enabled
Shogun Method "Trust Hacking" Premium Program (available exclusively on ShogunMethod.net)
Your free bonuses will be automatically added to your download page after you have purchased the Shogun Method Black Book Volume One program