NEW BONUS ADDED: Get The Official "Mobile PlusPack™" Companion Package
FREE

With Every Purchase Of The Shogun Method Black Book Volume 2!
Get this premium program FREE with every purchase of the Shogun Method Black Book Volume 2 before the deadline on Friday, June 28th, 11:59PM EST
What's Inside The

Black Book Volume 2 Mobile PlusPack™

?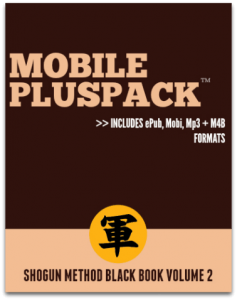 Access the Shogun Method Black Book wherever you are. Need a refresher of your Shogun Method Black Book tactics as you wait for her to turn up? Want a quick boost of confidence as you prep yourself up for a night out? Your Shogun Method Black Book knowledge is ready for you wherever you are... right inside your pocket!
Learn the techniques inside the Shogun Method Black Book on the go. Load the full-featured audiobook on your iPod while you work out at the gym or when you run. Read the complete Shogun Method Black Book on your iPad, iPhone, Android device or Kindle whenever you're on the go.
Bookmark and make notes. On your e-reader, highlight important points and annotate them with your own notes. Over time, your Mobile PlusPack™ will be even more valuable when enriched with your own jottings of personal experiences and insights.
Virtually all modern mobile devices are supported: Apple IOS (iPhone, iPad) and Google Android devices are compatible as well as Windows phones and tablets as well as Amazon Kindle, Barnes & Noble Nook and other modern e-readers.
Your free bonuses will be automatically added to your download page after you have purchased the Shogun Method Black Book Volume 2 program