NEW BONUS ADDED: Get The New "Social Power Handbook" Free With Every Purchase Of The Shogun Method Black Book Volume 2!
Get this premium program FREE with every purchase of the Shogun Method Black Book Volume 2 before the deadline on Friday, June 28th, 11:59PM EST
What's The

Social Power Handbook

?
In any relationship, one partner will always be more dominant than the other. And guess what? In the healthiest relationships, it's the MAN who is the DOMINANT one.
This means that relationship problems are caused only by one thing: the WOMAN as the dominant partner. If you are having problems with your woman, it simply means one thing: you've ceded your power over to her.
The Social Power Handbook will show you how to restore the "power balance" in your relationship so that you're dominant over her once again.
What's Inside This Program
Technique #1: Guilt Induction. Force her to feel guilty so that you gain an upper hand over her immediately
Technique #2: Focus Judo. Defend yourself by skillfully redirecting the conversation with "verbal Judo" tactics before she paints you into a corner
Technique #3: Positive Priming. A Rapport stage tactic, you'll "prime" her subconscious to respect your authority
Technique #4: Third Party. Use this sneaky technique to trigger her jealousy and make her cautious about losing you to another woman
Technique #5: Downplaying. Discover the easiest verbal tricks to "downplay" and de-fang her objections and snarky comments
Technique #6: Fractionation. Learn how to re-apply the Fractionation technique in the context of power and control in your relationship
Technique #7: Silent Treatment. Women are naturally good at giving silent treatments to men as a power move. Discover how to use this technique over your woman for maximum effect… by giving her a taste of her own medicine!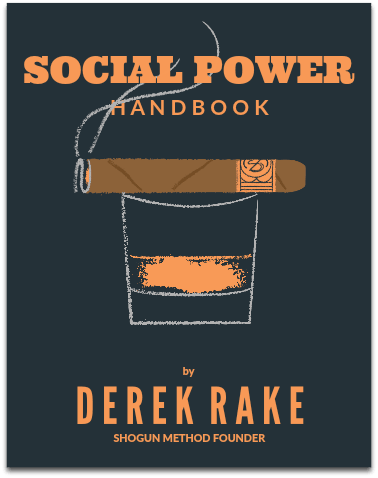 This Bonus Comes ON TOP Of The Mobile PlusPack That You Will Also Be Getting For FREE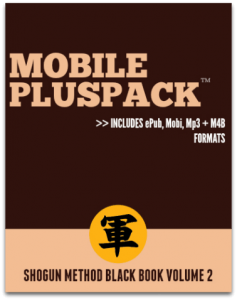 Access the Shogun Method Black Book wherever you are. Need a refresher of your Shogun Method Black Book tactics as you wait for her to turn up? Want a quick boost of confidence as you prep yourself up for a night out? Your Shogun Method Black Book knowledge is ready for you wherever you are... right inside your pocket!
Learn the techniques inside the Shogun Method Black Book on the go. Load the full-featured audiobook on your iPod while you work out at the gym or when you run. Read the complete Shogun Method Black Book on your iPad, iPhone, Android device or Kindle whenever you're on the go.
Bookmark and make notes. On your e-reader, highlight important points and annotate them with your own notes. Over time, your Mobile PlusPack™ will be even more valuable when enriched with your own jottings of personal experiences and insights.
Virtually all modern mobile devices are supported: Apple IOS (iPhone, iPad) and Google Android devices are compatible as well as Windows phones and tablets as well as Amazon Kindle, Barnes & Noble Nook and other modern e-readers.
Get TWO Bonuses (The "Social Power Handbook" And The Mobile PlusPack™) Free With Every Purchase Of The Shogun Method Black Book Volume 2 Package
Offer Valid Only Until Friday, June 28th, 11:59PM EST
FREE: Mobile PlusPack (EPUB + MOBI versions)
FREE: "Social Power Handbook"
Unlimited Lifetime Updates
Here Are The Bonuses That You Will Get With Your Purchase Of The Shogun Method Black Book Volume 2 Package:
The entire Shogun Method Black Book Vol 2 program in ePu34b and MOBI formats, ready for your portable devices such as iPhones and Android phones as well as iPads and other tablets
The entire Shogun Method Black Book Vol 2 program in audiobook (M4B) and MP3 formats, ready for iPods and other compatible portable audio devices
Chaptering, highlighting, annotating and bookmarking capabilities completely enabled
Social Power Handbook (available exclusively on ShogunMethod.net)
60-day no-questions-asked money back guarantee
Your free bonuses will be automatically added to your download page after you have purchased the Shogun Method Black Book Volume 2 program