Thank you for your purchase.
Download the SM³ (Shogun Method for Married Men) System here below:
SM³ Premium Coaching™
Need Coaching?
If you'd like to have specialized, one-on-one advisory service then consider getting coached by one of our certified SM³ instructors.
We will analyze your situation in depth and recommend to you a step-by-step strategy based on the SM³ model. Coaching is done via email, and turnaround time of each email query is typically 3-4 working days. This is designed so that you can take the time to implement the strategies with your wife before we plan your next move with you.
Coaching fee per email is $175, with a minimum of three emails per purchase.
To apply for SM³ Premium Coaching™, click on the button below: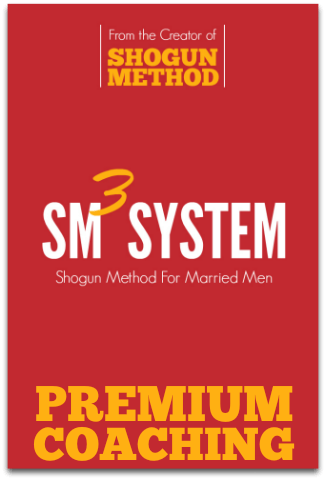 What Works Well With The SM³ System?
The biggest idea inside SM³: the bigger the "Sexual Value Gap" (SVG) is between your wife and you, the healthier and happier your marriage is. Explore more about SVG inside the third volume of the Black Book series - and learn how to increase the Gap and make your wife FEAR losing you (really powerful!)
Bulletproof your marriage by inducing an ill feeling at the thought of leaving you (use the Illness Pattern), "forcing" her to imagine a lifetime of shared experience with you (the Future Projection Pattern) and making her feel "empty" without you (the Emptiness Pattern). All three Patterns are in the Shogun Sequences Handbook.
Warning: when your woman is on the verge of breaking up with you, her tendency to lie and manipulate you will go up! See through her deception and know exactly what she's REALLY thinking by using our proprietary Truth Extractor sequence.
Copyright © Derek Rake & Shogun Method. All rights reserved. Unauthorized copying and distribution is strictly prohibited. Your IP address has been logged.