---
NEW BONUS ADDED TO THE SM³ PROGRAM
VALID UNTIL SEPT 23 ONLY:
FREE

WHEN YOU BUY SM³
SHOGUN METHOD MARRIAGE TROUBLESHOOTER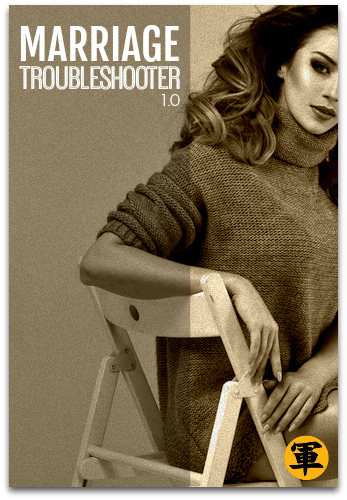 Free With Every Purchase Of The SM³ System (UNTIL SEPTEMBER 23)
Use the Shogun Method Marriage Troubleshooter to deal with the eight types of "problem wives":
The Angry Wife. She's always angry at you for one reason or another.
The Fragile Wife. She's the one who gets emotionally hurt way too easily.
The Rude Wife. She disrespects you way too often.
The Blaming Wife. She's the one who never takes any responsibility.
The Change-Phobic Wife. She resists all kinds of change – even things that would make the marriage better.
The Competitive Wife. She's the one who always wants the "last say."
The Downer Wife. She always looks at the worst side of things and can spoil even the happiest moments in your marriage.
The Self-Centered Wife. She's the one with the toxic "me-first" attitude.
The Marriage Troubleshooter will stabilize your marriage immediately and give you the peace of mind you'll need to chart your bigger SM³ strategy.
Your free bonus programs will be added automatically to your purchase upon successful checkout. OFFER EXPIRES ON SEPTEMBER 23, 2019.
Time Left Before This Bonus Goes Away: