VALID ONLY UNTIL MONDAY, JUNE 29, 2020: A THIRD PREMIUM BONUS
FREE

WHEN YOU BUY SM³

TIME LEFT BEFORE OFFER EXPIRES:
SHOGUN METHOD: WCCA CYCLE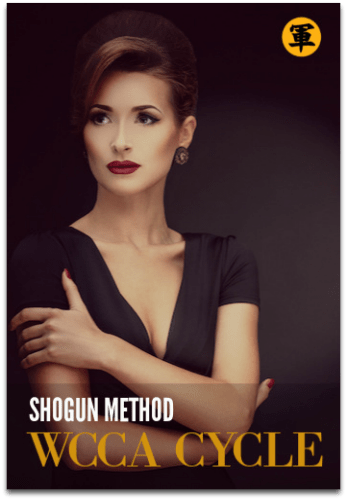 Free With Every Purchase Of The SM³ System Today
Warning. If you're a married man, then know this: you are at a much greater risk of getting cheated on than you think.
The "Shogun Method: WCCA Cycle" program shows you what to do to protect yourself, and more importantly, protect your marriage and family from breaking apart. You will learn…
What makes a married woman cheat. Dive into the intricate psychology of a cheater and know what she REALLY thinks. 
The "WCCA Cycle". These are the four phases of infidelity that cheating wives or girlfriends go through (every ONE of them, no exceptions.)
The "W" Phase. These are the FIRST signs of infidelity, and may occur BEFORE cheating occurs. Knowing these first signs will give you the precious opportunity to nip the problem at the bud.
The "First C" Phase. This is when the proverbial shit hits the fan. She will start suffering emotionally and when this happens, your marriage will begin to worsen tremendously.
The "Second C" Phase. There are three variations of what is understood by "cheating". Knowing which variation will give you the opportunity to stop her from moving to the final WCCA phase - the "A" Phase.
The "A" Phase. There are only TWO outcomes for infidelity (yes, only TWO). Learn what these two outcomes are so that you can avoid either of these terrible fates from happening to your marriage.
This program also details the The "Recapture" strategy to reverse the "WCCA Cycle", remove infidelity tendencies and put your marriage back on the track of honesty, trustworthiness and everlasting loyalty.
REMEMBER: This bonus comes ON TOP of the two bonuses: "Forbidden Chapter"  and "The Marriage Troubleshooter" programs that you are already getting for free. This means that when you buy SM³ today, you will get THREE premium programs free - "Forbidden 

Chapter

", The Marriage Troubleshooter and Shogun Method: WCCA Cycle.
Your free bonus programs will be added automatically to your purchase upon successful checkout